Homepage
Main content starts here, tab to start navigating
Slide 1 of 17
Slide 2 of 17
Slide 3 of 17
Slide 4 of 17
Slide 5 of 17
Slide 6 of 17
Slide 7 of 17
Slide 8 of 17
Slide 9 of 17
Slide 10 of 17
Slide 11 of 17
Slide 12 of 17
Slide 13 of 17
Slide 14 of 17
Slide 15 of 17
Slide 16 of 17
Slide 17 of 17
Now Proudly Serving Coca-Cola Products!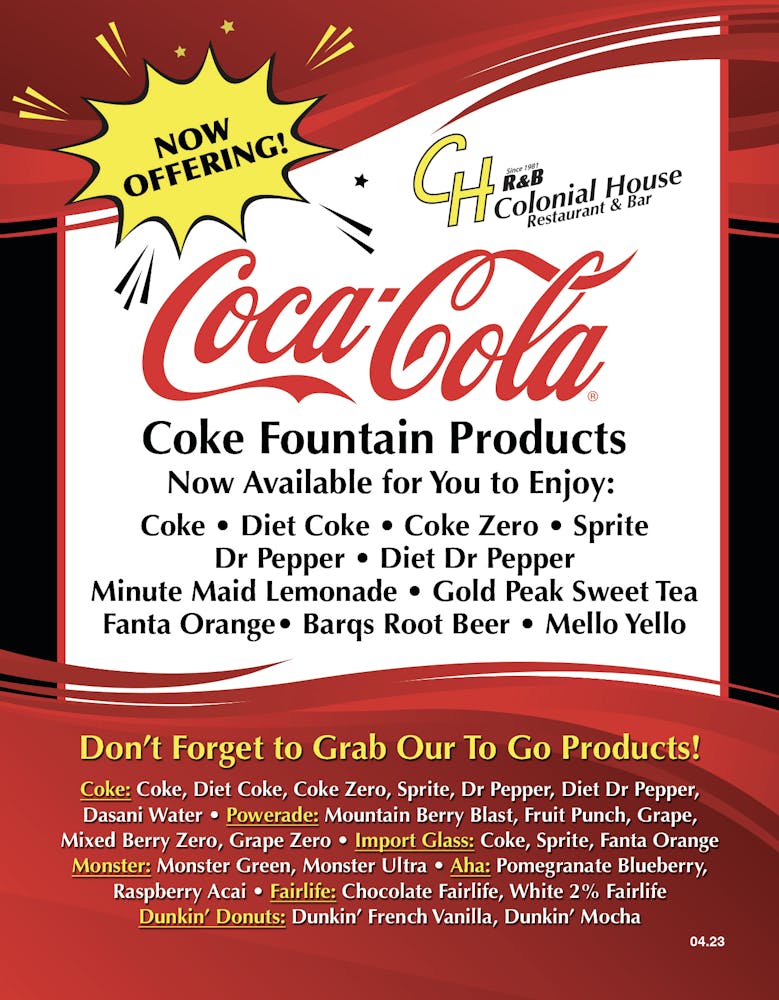 Family Run Since '81!
Pound for pound the Colonial House Restaurant & Bar is the best dining establishment in the Black Hills of South Dakota. We proudly invite you to indulge in our extensive selections of Breakfast, Lunch or Dinner items. Whether choosing Dine-In, Carry-Out, Curbside or ordering delivery with Food Dudes, we are here to meet your dining needs.
Enjoy locally crafted brews from the 605, along with wines, spirits, and our signature cocktails--like our 7 Bloody Mary.
The CH Bake Shop, arguably our most famous entity, is known for the Original CH-Caramel Roll, the Original CH-Cinnamon Roll, delicious pies, breads, dessert bars, pastries, and other goodies---all made by hand and in house!
Download Our App!
Our CH dishes are at your fingertips!
Download it today and order your faves.

For iOS

loom.ly/5zU8PUI
For Android

loom.ly/oeY8JMk
Soup Calendar
Get your soup in a group with Colonial House's Monthly Soup Calendar.
View Soups
Community Dough
Colonial House is committed to giving back to our community through volunteer work, and by financially supporting education, youth recreation, and other worthy causes. If you are interested in donations, please email kevin@colonialhousernb.com.